Find Out Why Thousands of Successful Chiropractors Use CHIROPRACTIC Newsletter TM to Market Their Clinics Every Month

Automated Solutions Designed for the Success of Your Practice, Guaranteed To:


Attract New Patients
Market Your Practice
Stimulate Patient Referrals
Build Strong Patient Relationships
Distinguish Your Practice
Define Your Treatment Niche

What determines the ultimate success or failure of your clinic is easily defined: the number of acquired and retained patients.
Successful chiropractic clinics are created by and thrive on a combination of proven systems working consistently together. Few, if any, practice owners when asked, can contribute their success to just one thing. However, all successful chiropractic clinics share this one vital trait: They are successful because of the relationships they have established with their patients. Patients don't buy your services; rather, they invest in a relationship.
Chiropractic Newsletter is guaranteed to help your clinic build trust and strong relationships with your patients, while educating them on your treatment philosophy and their treatment options.
The days of putting up a shingle and waiting for patients to flood through your doors are over. Whether you are a solo practitioner, or the owner of a large clinic; you need to create a perception of who you are to your community, in order to distinguish your clinic from your chiropractic competitors, as well as from physical therapists, local doctors, and anyone else that could potentially steer your patients elsewhere.
Twice each month, with Chiropractic Newsletter's automated system, a content-rich, completely done-for-you newsletter, arrives via email, video, or fax to your patient list; delivering clear, consistent and compelling messages, professionally written, that influence and attracts more patients. You also have the option of a printable version for in-office displays and hand-outs to patients during their visits.
Chiropractic Newsletter was created by a private practice owner who has an apprehension of the day-to-day pressures of running the business side of a practice; finding effective ways to market it to new and existing patients; establishing a rapport with your patients and keeping it - all while working long hours in the clinic itself. Each day, overwhelming feelings stronger as these tasks seem to grow while the time you have to do them seems to be continuingly shrinking.
Can you really afford to spend valuable time away from patient treatments to write a series of newsletters twice every month that markets your clinic and maintains regular communication with your patients? Do you add more hours to an already long day racking your brain to write fresh articles, edit and properly format them? At the end of these tasks, are you too drained to spend any real quality time with your family and friends?
Let Chiropractic Newsletter Supply Two Completely Done-For-You and
Customizable Newsletters, Delivered in Multiple Formats, Every Month,
On Behalf of Your Clinic.

Chiropractors today need to acknowledge that they are a brand. Brands offer instant recognition and identification, with a promise of consistent, reliable standards of quality. Chiropractic Newsletter can help you and your clinic stand apart from the competition, by "building your brand" with new and existing patients. Every month the newsletter highlights different patient-relevant areas of chiropractic - building trust through understanding.
Pull back the curtains of your practice...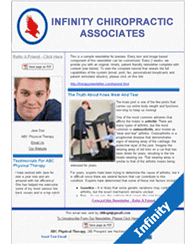 Clearly define your niche of the chiropractic market - Let your patients know that chiropractors are more than doctors for back and neck pain.
Dispel prevailing myths about chiropractic each month like:
a) Myth: Spinal adjustments are extremely painful.
b) Myth: Chiropractors have no formal education.
When patients understand the "why" of what you do, trust is built - and trust generates revenues.
This is not a one-size-fits-all newsletter…
Chiropractic Newsletter's content is customizable to serve the specific needs of your practice. After you login to your Chiropractic Newsletter account and access the content, you can make as many changes to any or all of the newsletter's components.
Your

Email Exclusive License

allows you to enjoy complete creative control by using the click-and-edit feature to:
Personalize the appearance and feel of your clinic's newsletter, utilizing custom headers, colors and footers
Add content - Communicate in your own "voice" forging a relationship with your patients that sets you and your clinic apart from all other competitors
Edit content - Remove any part of the newsletter to better reflect your specific treatment philosophy
Edit any picture or logo - There are 7 templates to choose from, as well as unlimited color selections
Use Chiropractic Newsletter's advanced editor to format
Save hundreds of dollars on copywriting fees charged by professional writers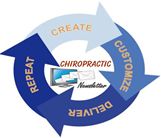 Sign Up Today - Chiropractic Newsletter is Guaranteed To Get New Patients, Increase Patient Referrals, And To Build Trust And Rapport With Your Patients. You Get An Email Exclusive License. That Means This Technology CANNOT Be Used By Your Competitors In Your Area…
What Are You Waiting For? Join Today!

That's Not All; You Receive An Unconditional 100% Money Back Guarantee For The First 30 Days
Stimulate Internal Patient Referrals with the inherent "refer a friend" feature.
Chiropractic Newsletter is specifically designed to generate referrals from existing patients with its integrated "refer a friend" technology. A component of each newsletter; this feature stimulates internal referrals via an easy-to-use form. Transmit your customized newsletter content with the push of a button - taking your clinic's message viral throughout the community utilizing state-of-the-art email, video and fax technology.
Hand out copies of your customized newsletter to patients and local businesses by using a printable Word Doc.
Twice each month, Chiropractic Newsletter is available as an attractive, completely customizable Word document providing you with the flexibility to rapidly customize and print high-quality color, or black and white newsletters that can be handed out to your patients and local businesses, further establishing you as an expert and authority figure within the community.
Market and Build Your Practice with a Trifecta of Distribution Channels

1.) Automated email
2.) A printer-compatible version
3.) A PDF version suitable for faxing
Use Previous Content To Strengthen Your Message
- as a member of Chiropractic Newsletter, you have the ability to re-use previously posted content from your website, office hand-outs, or authored newspaper columns - any copyrighted content that you own.
Chiropractic Newsletter is the Fastest and Easiest Way to Market Your Clinic and Build Patient Trust
Patients will be eager to give you their email address - Gather email addresses after patients come to your website by giving them access to FREE "patient stimulator" downloads of EBooks which Chiropractic Newsletter supplies.
After new and existing patients leave their name and email information in the provided form - they gain access to these ready-to-use "lead generators" that are fully customizable on such patient-relevant subjects as: Chiropractic and Headaches; Chiropractic Treatment of Disc Herniation; and Chiropractic: Back Pain and Pregnancy.
After their information is entered, it is automatically entered into your Chiropractic Newsletter account, and patients will start receiving customized newsletters from your clinic twice every month. You may even send an email sequence that specifically tars different patient segments of your list:
a) A welcome sequence for new patients
b) A sequence for patients who miss appointments
c) A sequence for discharged patients
d) A "special occasion' sequence (patient birthdays, anniversaries, and holidays)…and much more.
Chiropractic Newsletter also has available a proprietary script to collect patient email addresses that can be used on the phone, in person, or in a letter. Tested and proven effective, this script will have at least 90% of those patients contacted happy to give their email information to you.
Implementation of your customized newsletter takes 20 minutes or less - automating your practice's referral generation and marketing.
Even in the absence of a website, email patient lists, or technical knowledge, Chiropractic Newsletter can serve as your clinic's all-in-one communication system, effectively creating rapport and trust with new patients, fostering internal referrals, and build loyalty with existing patients.
Look It Over Today

We Shall Email You Samples Of Our Past Issues…